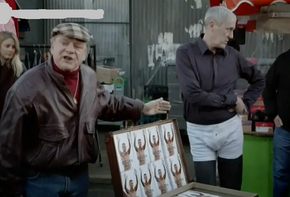 Trotters Independent Traders (TIT)
is a market trading business run by
Derek "Del Boy" Trotter
and
Rodney Trotter
.
c1960-1996
In 1960, a 15 year old Del Boy Trotter started trading, by buying vinyl records off American sailors in the London docks, that meant Del could acquire American music LP's which had not yet been released in Britain. Del Boy then sold stuff which he acquire locally, often the merchandise had a tendency to float out of factory windows. Del sold everything from dolls to massagers and after his mum died in 1964 and his dad left 2 months later, TITCO was the Trotter family's main income, as well as Del's daft old Grandad's pension.
For years Del had many get rich quick schemes such as selling disposable razors, hairdryers, infra red massagers but often Del was always getting burnt so to speak. He and Rodney slogged away but they earned a pretty basic income at the end of the day, lots of the market customers did not fall for their banal sales patter. Even the Russian VCR's Del tried to sell in 1993 did not make them millionaires. Their luck changed in 1996 when they found that they owned a priceless Harrison Watch which pocketed them £6.2 million. Del wished he had earned his millions rather than won it. But he could afford a lovely mansion in the country and Rodney could afford a Thames apartment. No longer having to get up at 5am and work until 6pm down street markets on the rainy streets of Peckham.
2001-present
Proprietors
Employees
Rodney Trotter (1981-1996)
Ad blocker interference detected!
Wikia is a free-to-use site that makes money from advertising. We have a modified experience for viewers using ad blockers

Wikia is not accessible if you've made further modifications. Remove the custom ad blocker rule(s) and the page will load as expected.