Green, Green Grass was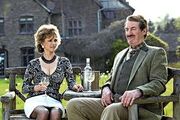 a spin off of Only Fools And Horses. It focused on
Boycie
and
Marlene
, characters from OFAH. The Green Green Grass ran for 5 series from 2005 to 2009. Several characters from the show never appeared in Only Fools And Horses itself. Only Boycie, Marlene,
Tyler Boyce
, 
Dora Lane
,
Denzel
,
Sid
and
The Driscoll Brothers
appeared in Only Fools And Horses as well as The Green Green Grass. All others such as
Elgin Sparrowhawk
,
Bryan
,
Imelda Cakeworthy
,
Jed
,
Llewellyn Ap Caradog
,
Beth
,
Pertunia
,
Ray
,
Sara
,
Colin Cakeworthy
and
Rhian
only appeared in Green Green Grass.
Main characters
Edit
Guest characters
Edit
Flashback only
Series 1
2005
2005 Christmas special One Flew Over The Cuckoo Clock (25th December 2005)
Series 2
2006
2006 Christmas special From Here To Paternity (25th December 2006)
Series 3
2007
2007 Christmas special The Special Relationship (30th December 2007)
Series 4
2009
Ad blocker interference detected!
Wikia is a free-to-use site that makes money from advertising. We have a modified experience for viewers using ad blockers

Wikia is not accessible if you've made further modifications. Remove the custom ad blocker rule(s) and the page will load as expected.