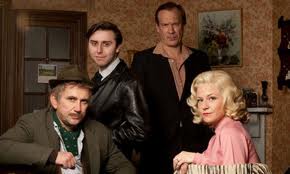 Rock and Chips was the prequel to Only Fools And Horses, charting the life of a teenage Del Boy Trotter in Peckham and his mother Joan and father Reg and grandfather Ted. The series ran for 3 episodes and was written by John Sullivan, the creator of Only Fools And Horses.
The 3, 90 minute episodes consisted of "The Pilot Special" "Five Gold Rings" and "The Frog And The Pussycat". All were screened on BBC1 from January 2010 to April 2010.
Conception
Edit
Ad blocker interference detected!
Wikia is a free-to-use site that makes money from advertising. We have a modified experience for viewers using ad blockers

Wikia is not accessible if you've made further modifications. Remove the custom ad blocker rule(s) and the page will load as expected.