Mickey Pearce
was a charac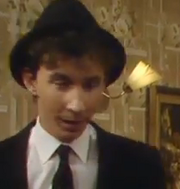 ter in Only Fools And Horses who appeared sporadically throughot the show from 1983 to 2003. He was the brainless friend of
Rodney Trotter
. Mickey was a bit of a junior version of Rodney's brother
Derek "Del Boy" Trotter
, a spiv, the dodgy dealing flash dresser. Mickey was played by
Patrick Murray
.
Biography
Edit
Backstory
Edit
Mickey Pearce was born in 1960 in Peckham, London, SE15 to Mr Pearce and Kathleen Pearce. He had a sister. Mickey went to school with Rodney Trotter and became good friends with him. In 1981, Mickey stole Rodney's girlfriend Monica, a woman who either had fat thighs or bopped the night away in nightclubs wearing jodphurs. Mickey's grandad once had piles.
1983-2003
Edit
In 1983, Mickey and Rodney went into partnership as Rodney was sick of being Del's dogsbody down the markets, being a lookout and humping Del's suitcase all over London. Mickey was unreliable and untrustworthy so Rodney swiftly went back working for Del again. In late 1983, Mickey and Rodney tried to chat up 2 girls. Del insulted them by saying they were the ugly sister and asked if they saw Cinderella. This put Rodney and Mickey off the girls.
Observations
Edit
Mickey Pearce was unseen for the first 2 seasons of Only Fools And Horses but was mentioned by Rodney Trotter in Go West Young Man - (15th September 1981) and No Greater Love (11th November 1982). Mickey first appeared in Healthy Competition (17th November 1983).
Memorable info
Edit
Full Name: Michael Pearce
Occupation: Trader, double glazing salesman.
Appearances
Edit
1983
1985
1986
1988
1989
1990
1991
1992
1993
1996
2001
2002
2003
Ad blocker interference detected!
Wikia is a free-to-use site that makes money from advertising. We have a modified experience for viewers using ad blockers

Wikia is not accessible if you've made further modifications. Remove the custom ad blocker rule(s) and the page will load as expected.