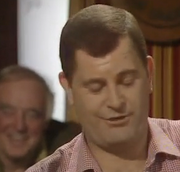 Kenneth MacDonald
was an English actor who played
Mike Fisher
from 1983 to 1996. Kenneth died in 2001 aged 50, shortly before the show returned.
Pre Only Fools And Horses career
Edit
Born William MacDonald in Manchester on the 20th November 1950, he was the son of Scottish wrestler Bill MacDonald.
Only Fools And Horses
Edit
In late 1983, Ken joined Only Fools And Horses as landlord Mike Fisher. It is rumoured that Ken was to play just a one episode role as Mike but he was asked back and made regular appearances for the next 13 years. Mike was bought in to be a droll foil for Derek "Del Boy" Trotter, the local dodgy market trader. Mike was often on the recieveing end of Del's dodgy deals, and one time Del sold him what he thought was a hairdryer but was an electric paint stripper.
https://en.wikipedia.org/wiki/Kenneth_MacDonald_%28English_actor%29
Ad blocker interference detected!
Wikia is a free-to-use site that makes money from advertising. We have a modified experience for viewers using ad blockers

Wikia is not accessible if you've made further modifications. Remove the custom ad blocker rule(s) and the page will load as expected.