Denzil Tulser
was a char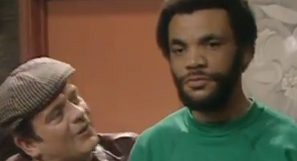 actor in Only Fools And Horses who first appeared in
"Who's A Pretty Boy (22nd December 1983)
and was often a foil for Del Boy's get rich quick schemes. Due to his gullible nature, Denzil often found it hard to say no and used to get conned by Del. On occasions, Denzil could be as gullible as Trigger but usually was quite intelligent. Denzil appeared regularly throughout the series and also in
The Green, Green Grass (spin off of Only Fools And Horses)
and
Rock And Chips (Prequel to Only Fools And Horses)
. Denzil was played by
Paul Barber
.
Biography
Edit
Backstory
Edit
Denzil Tulser was born on the 8th August 1945 in Liver
pool to a Jamaican family. Denzil was one of 6 children, all boys. The family relocated from Liverpool to Peckham, London in 1958 or 1959 when Denzil was 13. Denzil's dad was offered a job on the London docks. Denzil spent the last few years of his school years at
Dockside Secondary Modern
where he became good friends with fellow schoolmates
Derek "Del Boy" Trotter
,
Trigger - aka Colin Ball
,
Boycie
and
Roy Slater
.
1983-2003, 2005
Edit
In late 1983, Del and Rodney visited Denzil. They had planned to paint Denzel's flat. When Del spun him a yarn about being in the painting and decorating business, Denzil asked Del if he could paint this room for him.
Memorable info
Edit
Born: 8th August 1945
Full Name: Denzil Tulser
Parents: Clarence Tulser and Mrs Tulser
Siblings: Carl Tulser, 3 others
Spouse: Corrine (??-1988)
Children: None
Observations
Edit
Personality
Edit
Appearances
Edit
Only Fools And Horses
1983
1985
1989
1991
1992
1993
1996
2001
2002
2003
The Green Green Grass
Rock And Chips (Only Fools And Horses prequel set in 1960-1962)