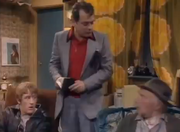 Big Brother was the first ever episode of Only Fools and Horses. It was transmitted on the 8th September 1981 with a viewing figure of 9.2 million. It kicked off one of Britian's best loved comedy series.
Rodney Trotter is keeping accounts for Trotters Independent Traders (TITCO). His older brother Derek "Del Boy" Trotter sees him doing so and tells him to stop, as that is evidence in case the tax man comes snooping, as TITCO is not a legit company. Del and Rodney go to The Nags Head and see Trigger who is selling some briefcases. Del agrees to buy 25 of them for £200 all told, initially only offering £175, hoping to cheat a gullible Trigger, but Rodney saying the calculator says 8 X 25 is £200. Rodney worries Del is not respecting his opinion enough. Rodney says he has pianist fingers, Del says they break easily.
Del finds out the briefcases are stolen, but also rejects, as he tries to sell them to a local stationer he knows but the stationer says 25 briefcases were stolen from his warehouse last week. He says they were rejects anyway, the combination for them is inside the briefcase and can only be opened by safecrackers, making the recent one legged turkey deal look shrewd. Rodney says he should be made a financial adviser, but Del does not want to after Rodney suggested chucking the briefcases in the river. Del and Rodney argue, and Del points out that he bought Rodney up after their mum died and their dad left them just after. Rodney says he can prove himself and goes down the pub.
The next morning, Del is told by Grandad that Rodney left a note to say he had gone to Hong Kong to try and find the girl he had been caught smoking a reefer with, which lead to him getting a fine and kicked out of art college. Del trawls the back streets of London trying to sell the briefcases and looking for Rodney. Del has no luck selling them.
Rodney comes home a week later and says he went no further than a dosshouse in Stoke Newington. Del says he threw all the briefcases in the river and may be floating around Tilbury by now.
Main cast
Guest cast
Previous Episode NoneEdit
Observations
Edit
Locations seen
Edit
Ad blocker interference detected!
Wikia is a free-to-use site that makes money from advertising. We have a modified experience for viewers using ad blockers

Wikia is not accessible if you've made further modifications. Remove the custom ad blocker rule(s) and the page will load as expected.