Christmas Trees was a mini episode of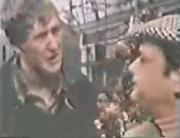 Only Fools And Horses broadcast on the 27th December 1982. It saw 
Derek "Del Boy" Trotter
and
Rodney Trotter
trying to sell hookie Xmas trees down the market.
Main cast
Guest cast
Observations
Edit
This special was first screened as part of a show hosted by Frank Muir, The Funny Side of Christmas, in which mini-episodes of Yes Minister, Open All Hours (which also starred David Jason), Butterflies (which also starred Nicholas Lyndhurst), and Last of the Summer Wine were also featured.
Chronologically, this episode is set just after Diamonds Are For Heather (30th December 1982), despite being shown 3 days earlier. Del and Heather ended their relationship in Diamonds Are For Heather, which was in the run up to Christmas. This mini episode was set at Christmas.
Locations seen
Edit
Ad blocker interference detected!
Wikia is a free-to-use site that makes money from advertising. We have a modified experience for viewers using ad blockers

Wikia is not accessible if you've made further modifications. Remove the custom ad blocker rule(s) and the page will load as expected.